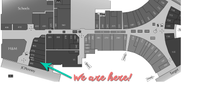 Visit our store in Kirkwood Mall!
From our Facebook groups to pop-up shops around town; we have decided to become a permanent fixture in our community by opening our own store in the Kirkwood Mall.
Visit us one door down from JCPenney to try on our latest inventory and pickup your online orders! We offer shipping to your home if you can't find the time to stop by the shop.
Watch for information on special events we plan to hold throughout the year.
We are still on Facebook
Though we have two new homes, our new store in Kirkwood mall and our online store, we still have our original Facebook groups: